Fire & Smoke Curtains
A modern day solution to protect open plan buildings from the spread of smoke and fire and are discretely designed to seamlessly blend into the building fabric.
Munster Roller Shutters & Door Ltd have recently been involved in the supply and installation of Fire Curtains on two of the largest Fire Curtain projects ever undertaken in the south of Ireland. The award winning No.1 Albert Quay building and the more recent Capitol Redevelopment on Grande Parade in Cork City are arguably the most prestigious, modern day structures ever built in Cork City.
Munster Roller Shutters and Doors Ltd have installed over 100 Fire curtains in these developments.
fire and smoke curtains slows down fire and contains fire in particular area. Even the passage of smoke can be blocked. It can offer many different levels of protection from fire, and the highest ratings offer as much as 4 hours of protection from fire. Such a time frame gives people more time to evacuate a home or building, which can minimise loss of life. And the containment allows emergency services more time to respond, so that property damage can be kept to a minimum as well.
Specification / Technical Data
Fire curtains are made from a special fire-rated fabric, which has been stitched with stainless steel and Kevlar (the material used for bulletproof vests). All fire curtains undergo thorough testing so that it complies with all European standards. Fire Curtains can be made to meet specific certification requirements, and they can protect against smoke leakage. Additional options include automatic obstruction sensors and delayed descent. .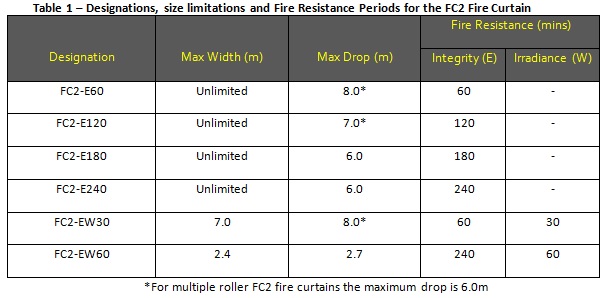 PDF. Downloads.