Munster Roller Shutters & Doors Ltd offer free advice on product suitability and design with written quotation to suit customer requirements.
Commercial Roller Shutters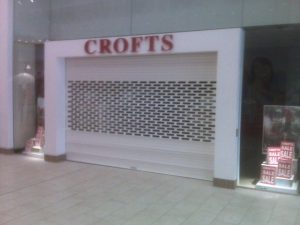 Our commercial roller shutter range is suitable for a number of applications including shop front design, offices and shopping centres. While security is priority, we understand the importance of a visually pleasing shop front is to our customers. With various specifications and a full range of powder painting options, our commercial roller shutters can enhance the whole shop front design.
Industrial Roller Shutters
Our Industrial roller shutters are suitable for door opening sizes in excess of 4m wide x 4m high and applications include warehousing, industrial units, car parks and farm buildings. Designed to withstand a class 5 wind rating and a wide variety of finishes and specifications, our Industrial roller shutter range will keep your business protected.
Fire Roller Shutters
Munster Roller Shutters and Doors ltd are a leading supplier and installer of Fire roller shutters in Munster. With today's regulations, fire offices and insurance companies demand strict prevention of the spread of fire within buildings. Fire roller shutters are designed and tested specifically to prevent the spread of fire whilst also acting as a security shutter for daily usage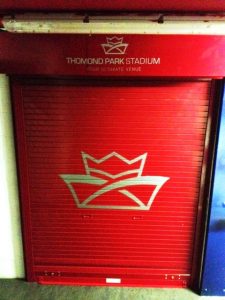 Fire Rated Shutters
Fire Rated Shutters FRS 60-240 Fire Roller Shutters
provide a physical protective barrier to the spread of flame in the event of a fire.
doubles as a security shutter solution for day to day usage.
are made to measure (up to 12m wide)
comply with BS 476 Part 22 1987 standard, tested and certified.
available with 60, 120 or 240 minutes fire rating (integrity only).
available in plain galvanised or powder paint finish direct from our in house powder paint facility.
available with a range of control options in the event of fire, in addition to means of control for normal day to day usage.
Suitable for use in schools, offices, kitchen areas, shopping centres, factories etc, where a physical fire barrier is required to a opening.
Roller Shutter Door Options
We have a range of roller shutter doors that can be tailored to meet your requirements. Door operation options include;
Single phase direct drive
Single phase chain driven
Single phase tube motor driven
Three phase direct drive
Three phase chain driven
Hand chain operated
Push up manually operated
For More Information Call Munster Shutters at 021 4886780